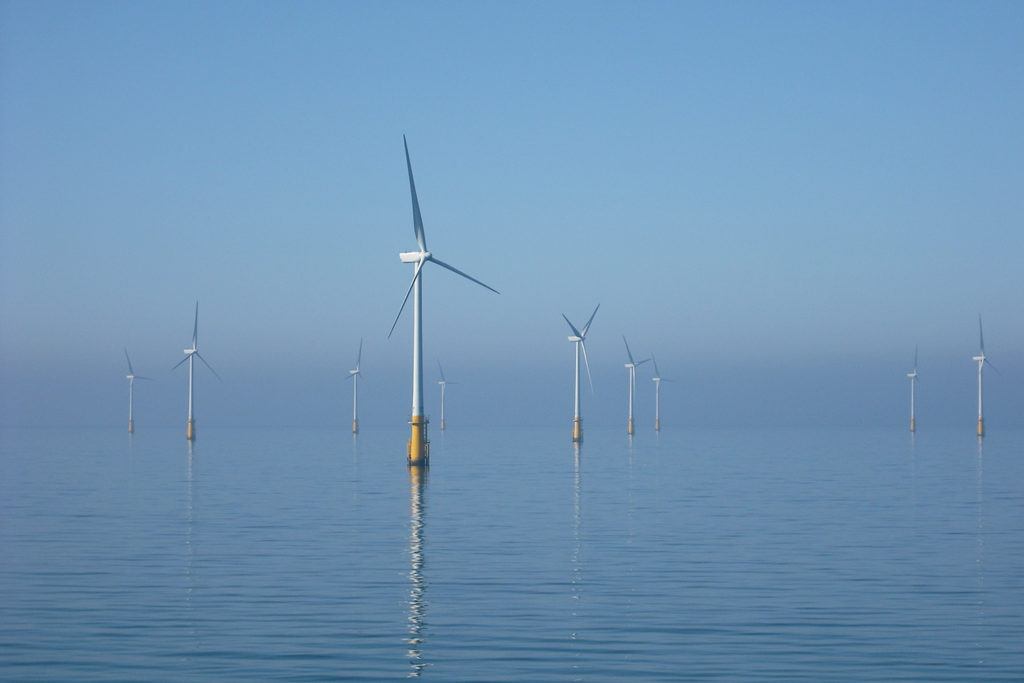 Offshore wind energy presents enormous potential to help meet California's 100% clean electricity target. The wind resource beyond Humboldt Bay is among the best in the nation, with wind speeds often exceeding 10 meters per second at 90 meters above the ocean's surface — and even faster at heights around 120 meters, where turbines would likely be centered. Offshore wind speeds are fairly steady across seasons and throughout the day, providing stable energy generation.
To develop wind generation off California's north coast would require harbor and transmission upgrades, and careful siting and design based on environmental and geological constraints and the resource needs of current stakeholders including fisheries, local tribes, and the US military.
We have identified three broad areas of research that we see as key to determining wind farm feasibility:
Engineering, policy, and economics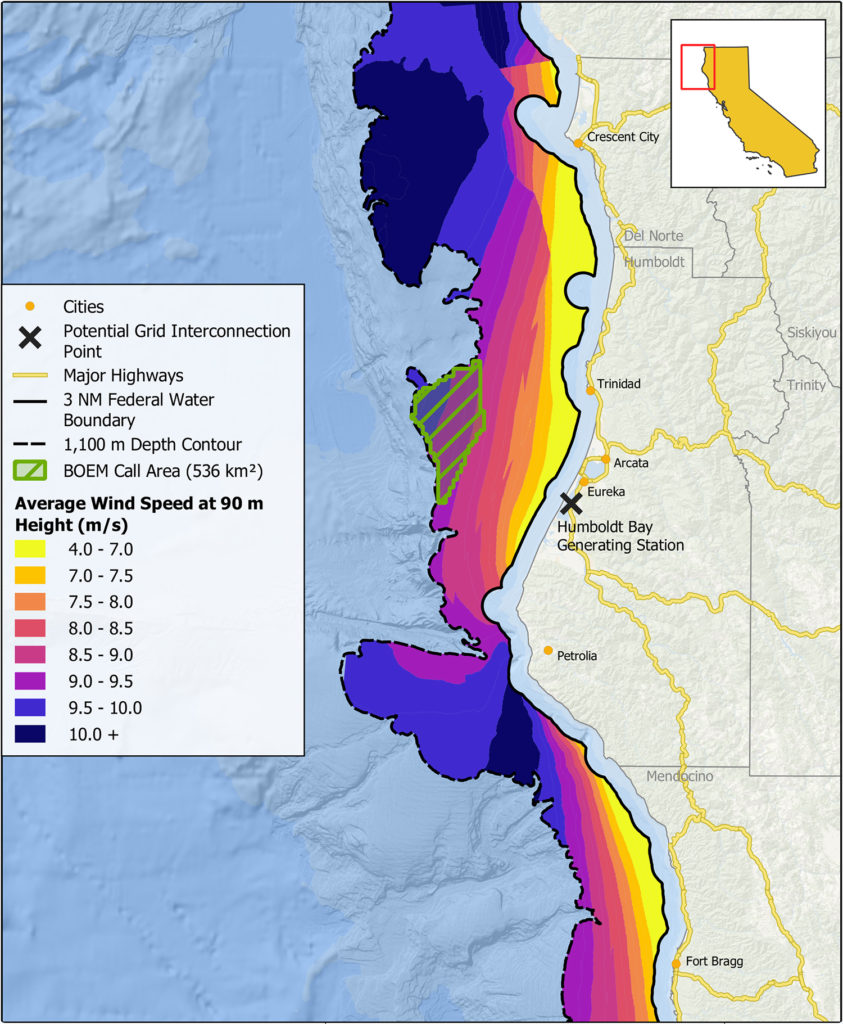 Potential generation profile — In order to determine how offshore wind generation would align with regional and state energy needs, daily wind patterns and production capacity within potential lease areas need to be assessed.
Transmission and interconnection — Large scale wind generation off California's northern coast would exceed the capacity of the region's electrical grid. Delivering power to larger load centers in California would require significant upgrades to transmission infrastructure. Upgrades and associated costs will be estimated.
Subsea cable transmission analysis — Energy could be transmitted to the San Francisco Bay Area via undersea cable, which would provide redundancy for existing onshore transmission lines. An undersea route and onshore interconnection options would need to be identified (as well as associated environmental impacts; see below).
Port and coastal infrastructure — As the northernmost deepwater port in California, Humboldt Bay could become a hub for the installation, service, and manufacturing of turbine components. The current state of port and coastal infrastructure needs to be catalogued and the required improvements detailed in order to assess site feasibility.
Policy analysis — Offshore wind planning involves local, state and federal agencies for environmental permitting of the wind farm, as well as harbor and transmission upgrades. California energy agencies would have additional oversight for the integration of offshore wind into the state's electricity market. Procedural requirements and timelines will be described to map the framework and identify any inefficiencies or overlap.
Economic viability — As a new and rapidly improving technology, offshore wind costs are becoming more competitive. The economic viability and cost of electricity from three different scale wind farms – small, medium, and large – will be evaluated for the specific context of Humboldt County.
Economic impacts — Offshore wind has the potential to bring a new industry and supply chain to California and the North Coast. Our study will provide an estimate of local job creation and regional economic development.
Environmental
Environmental review — Offshore wind development will require a comprehensive environmental review to understand impacts to mammals, fish, birds, plant life, and other organisms in offshore and onshore locations. Studying how ecosystems react to offshore wind farms can help us determine which methods minimize impacts to species and habitats, and whether offshore wind is compatible with this marine environment — and if so, which transmission methods and pathways are ideal.
Geologic and seismic constraints — The northern California coast is a highly active seismic area, with steep ocean floors and underwater canyons. The feasibility of mooring turbines at a given site will depend on the geological conditions of the ocean floor. Additionally, the most viable locations and best design methods for bringing an electrical cable onshore need to be determined.
Resiliency — Because California's north coast is in a remote, seismically active area, it is important to describe how offshore wind generation would impact the region's energy resiliency during an earthquake or tsunami, and to consider the implications of sea level rise for project feasibility.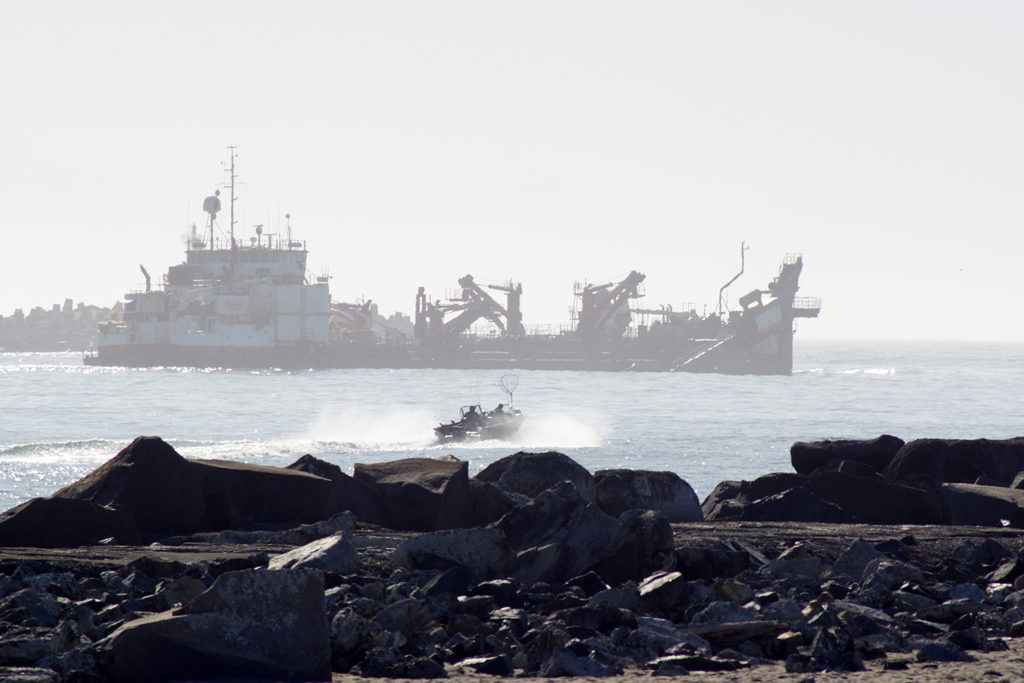 Shared ocean resources
Stakeholders — Development of offshore wind energy will create benefits and concerns for different stakeholder groups. Conducting outreach with stakeholders can help inform strategies to manage potential conflicts and create overlapping benefits for different groups. Assessing potential economic benefits will require an understanding of job creation and duration, local economic development, and the associated industry skills and training opportunities.
Military mission compatibility — Offshore locations that are suitable for wind development may overlap with military operations. The compatibility between wind farms and military use must be assessed and addressed before development can proceed.
Current projects
To assess offshore wind feasibility for the northern California coast, we are conducting three studies that jointly address each of the areas outlined above:
Wind Study 1: environmental impacts, coastal infrastructure, stakeholder engagement, and policy analysis. Funded by California's Ocean Protection Council (OPC).
Wind Study 2: wind resource assessment, grid compatibility, preliminary subsea cable design, and economic analysis. Funded by the Bureau of Ocean Energy Management (BOEM).
Wind Study 3: military mission compatibility, geologic and seismic constraints, and the environmental impacts of subsea cabling. Funded by the CA Governor's Office of Planning and Research (OPR).
Partners
We are collaborating on these studies with ecological consultants from H.T. Harvey and Associates, coastal engineering specialists from Mott MacDonald, Pacific Gas & Electric, and faculty in the Geology, Economics, and Environmental Science & Management departments at Humboldt State.