Three graduate fellows joined us last fall, and are now on research teams that span the Center's programs!
Ogunwo Demilade is the 2020-21 Tuttle Fellow. Demi did her undergraduate work at the University of Lagos, Nigeria where she studied electrical and electronics engineering. After graduation, she worked as a project manager at Ecowatt Nigeria, managing energy audit and power quality assessment projects for residential and industrial facilities. She later joined Starsight, a solar power utility, as a solar construction engineer. At Starsight, she supervised solar PV hybrid systems installation for banks and schools.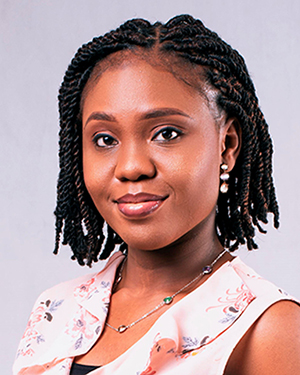 Growing up in a country with an unstable supply of electricity and around 50% electricity access, my goal has always been to contribute to solving the electricity access issues in my country using sustainable means. I intend to do my thesis on a solar PV and biomass powered microgrid for rural communities, and I hope to get funding to implement it after I am done with my program.
Since her arrival last fall, Demi has been working on a team that is chronicling how the two Blue Lake Rancheria microgrids performed during a series of voluntary islanding events in August 2020. She sees this research as a great opportunity to explore how microgrid systems operate and what benefits they can provide, from energy savings to demand response services and resilience during emergencies.
Malcolm Moncheur is the 2020-21 Schatz Energy Fellow. He received his bachelors from SUNY College of Environmental Science and Forestry in bioprocess engineering. Malcolm's first experience with renewable energy was through an internship with Wallowa Resources, a community empowerment nonprofit in northeastern Oregon. At Wallowa Resources, Malcolm provided technical and grant-writing support for community micro-hydroelectric projects — and saw what engineering can achieve when applied through a social change framework.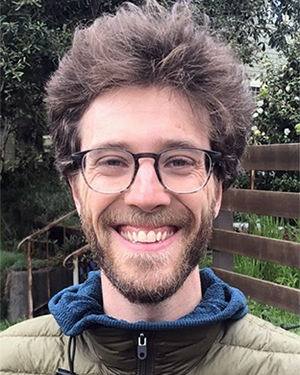 I was originally drawn to renewable energy through the technical side of things, learning how renewables function and their associated environmental/climate benefits. However, I quickly became interested with issues of equity: who benefits, who doesn't, and how can we transition to renewables in a just fashion that includes historically marginalized communities? Long term I'd like to focus on climate or energy justice, working to resolve energy inequities through community-owned projects.
Malcolm is currently working on the north coast "SAFE" project (Smoke, Air, Fire, Energy), which is a collaboration between the Schatz Center, the Karuk Tribe, and the Blue Lake Rancheria Tribe to understand both air quality impacts and energy needs associated with fire events.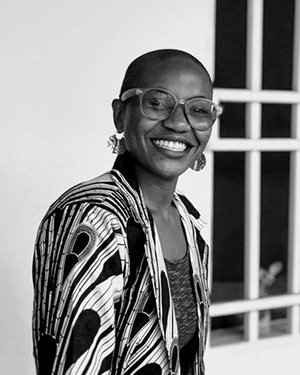 Hamidah Naishur Nakimuli is the 2020-21 Blue Lake Rancheria Fellow. Hamidah received her undergraduate degree in leisure and hospitality management from Makerere University Uganda. She has ten years of work experience in last mile energy distribution, and her commitment to renewable energy is informed by her firsthand experience with energy distribution injustices.
At the Schatz Center, Hamidah is a member of the solar products test lab, where she has been conducting market studies on products from suppliers in Sierra Leone and Uganda. After completing her graduate work at HSU, she plans to continue engaging with energy related activities that work to increase energy distribution to those with poor energy options, or without energy/electricity at all. In the meantime, she is looking forward to fully exploring HSU's campus and experiencing the outdoors!
Continuing fellows
Amin Younes and Aditya Singh are continuing as fellows for their second year. Amin is a member of the offshore wind and national energy policy teams at the Schatz Center. His graduate thesis will explore feasible renewable energy plans for Humboldt County, in light of California's Renewable Portfolio Standard. Aditya Singh is also a member of the Schatz Center's energy policy research team. For his thesis, Aditya is evaluating the costs and benefits of adding new infrastructure to transition Humboldt County's conventional bus fleet to battery-electric or hydrogen fuel cell systems.
Interested in becoming a fellow?
All first year graduate studies applicants who are pursuing either the ERE or ETaP pathway in Environmental Systems and who indicate an interest in energy systems will be automatically considered for clean energy fellowships associated with the Schatz Center.
In your California State University graduate application essay, please discuss the line of research or project work that you propose to pursue at HSU, and how your prior studies and experience have prepared you. HSU graduate program applications are due by February 1 (annually) for fall enrollment. Fellowship recipients will be notified by April 15.
Learn more about our fellowships at schatzcenter.org/fellowships/
Graduate energy studies at Humboldt State
Energy Technology & Policy (ETaP) is an interdisciplinary graduate program focused on issues at the intersection of energy, the environment, and society. Students draw on tools and perspectives from engineering, economics, political science, sociology, public health, and ecology to better understand the multi-faceted drivers and impacts of modern energy systems and climate change. Their graduate research ranges from local to global in scope, making innovative and impactful contributions in a broad array of arenas including renewable energy deployment, clean transportation, environmental justice, and improved energy access in developing countries. 95% of recent ETaP graduates have joined the energy workforce or are now enrolled in related PhD programs!
All incoming ETaP students will be considered for fellowships at the Schatz Center.
In the Environmental Resources Engineering (ERE) graduate program, students develop the practical application of their engineering skills to meet challenges in environmental resource planning, design, and management. Graduates acquire a multidisciplinary toolkit that builds on deep technical foundations and leverages coursework in policy, economics, and more. The ERE graduate program encompasses renewable energy, water quality, and water resources, and all students complete a thesis or project that matches their research and professional interests in one of these areas.
All incoming ERE graduate students whose research goals are focused on renewable energy systems will be considered for fellowships at the Schatz Center.