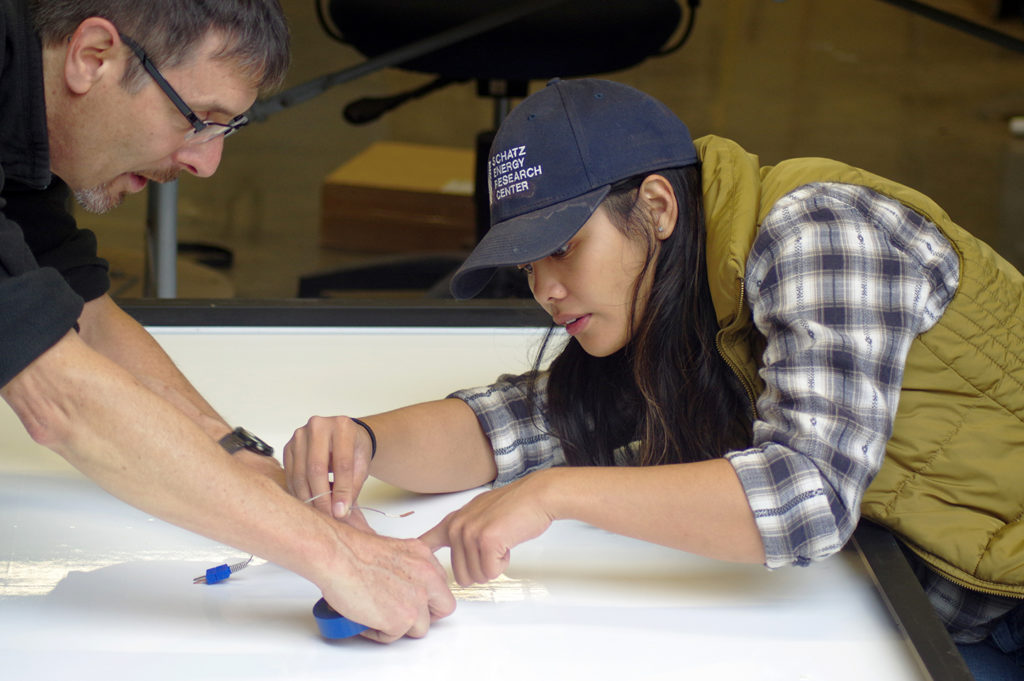 Four graduate study fellowships are associated with the Schatz Energy Research Center, thanks to generous funding from the Blue Lake Rancheria, Christina and Jack West, Donald and Andrea Tuttle, and the Schatz Center.
The Blue Lake Rancheria Fellowship for Clean Energy Studies is funded by the Tribe in honor of legendary local STEM educator, the late Jean Rousseau.
The Christina and Jack West Fellowship supports innovation and advancement of clean renewable energy technology.
The Donald and Andrea Tuttle Fellowship for Clean Energy Studies is funded by Donald and Andrea Tuttle as part of an effort to tackle the challenges posed by climate change and reduce its impacts on humanity and ecosystems.
The Schatz Energy Fellowship supports graduate studies in renewable energy and energy efficiency at Cal Poly Humboldt.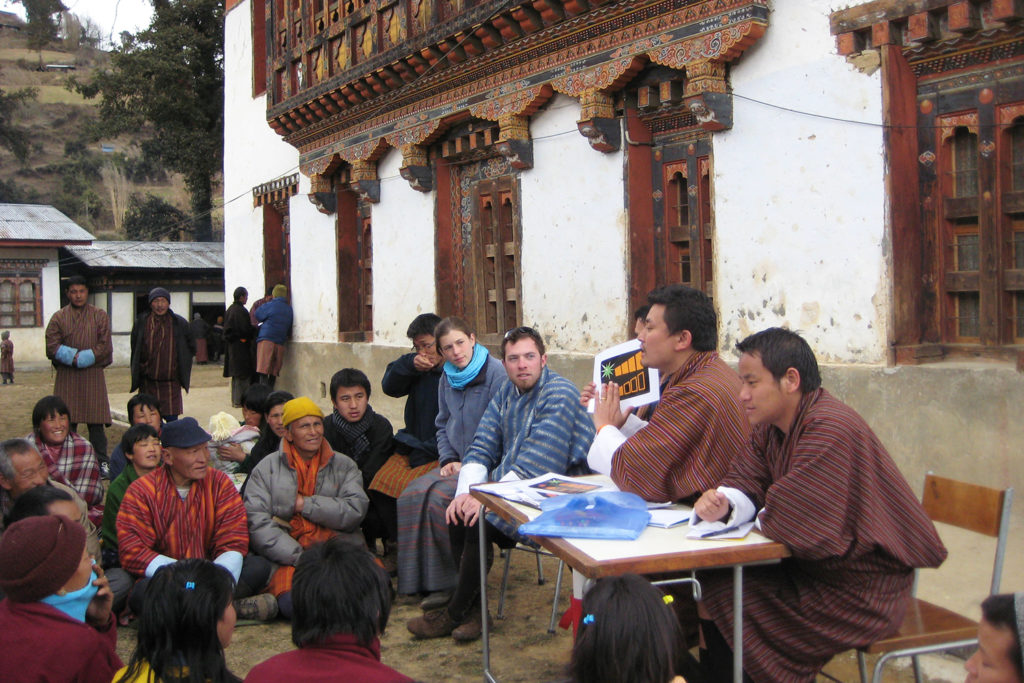 The 2021/22 incoming fellows are Nishaant Kumar Sinha, Deepak Tripathi, and Lorelei Walker. Malcolm Moncheur, Hamidah Naishur Nakimuli, and Ogunwo Demilade are continuing as fellows for their second year. Past fellowship recipients include: Jimento Aikhuele, Ranjit Deshmukh, Carisse Geronimo, Meg Harper, Asif Hassan, Billy Karis, Brendon Mendonca, Tirian Mink, Thalia Quinn, Grishma Raj Dahal, Steven Shoemaker, Aditya Singh, Anamika Singh, Pramod Singh, Nick Turman-Bryant, and Amin Younes.
Who is eligible?
To be eligible for fellowship consideration, a student must:
be an incoming graduate student in the Environmental Resources Engineering (ERE) or Energy Technology and Policy (ETaP) pathways of Humboldt's Environmental Systems program, and
intend to research or conduct project work in renewable energy, energy efficiency, or related areas in the clean energy field.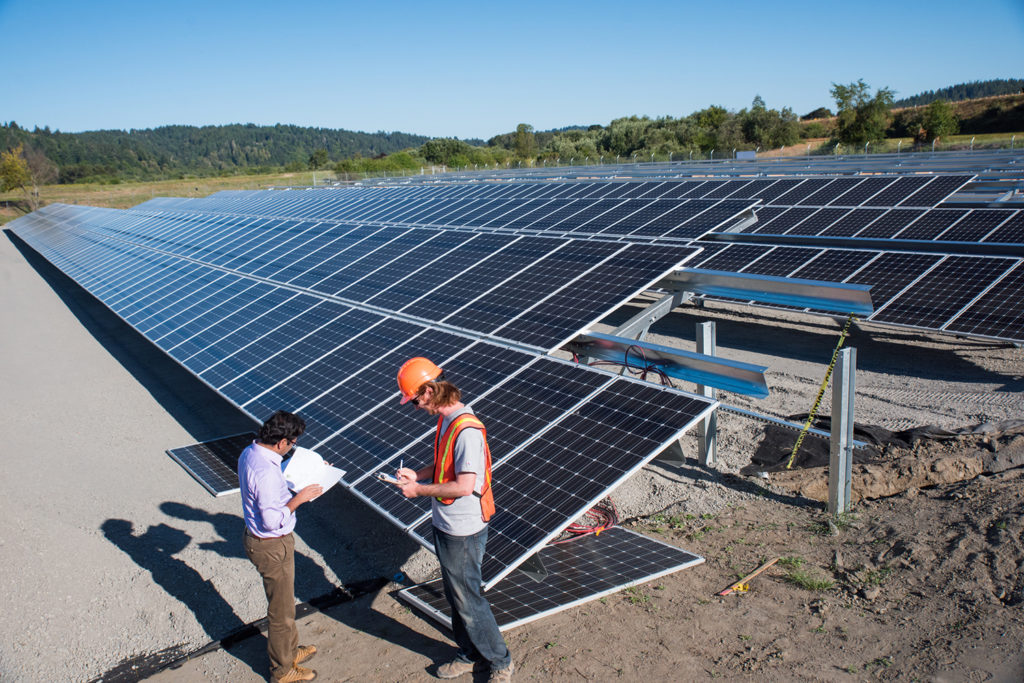 Students who receive substantial grant or scholarship funding (more than $15,000 per year) from another source are not eligible for fellowships.

What is offered?
The Blue Lake Rancheria and Schatz Energy fellowships each provide $15,000 in financial support for one academic year.
The Donald and Andrea Tuttle Fellowship provides $15,000 in financial support for one academic year. Incoming fellows are accepted every other year (2018, 2020…)
The Christina and Jack West Fellowship provides $19,000 in financial support for one academic year. Incoming fellows are also accepted every other year (2019, 2021…)
Fellowship awards may be renewed for a second year of study, at the discretion of the selection committee.
Additionally, all fellows are employed for 10 hours per week during the academic year, as a research assistant on Center projects. (Summer employment opportunities are dependent on current project needs, and are not guaranteed.)
How do I apply?
All Environmental Systems: ERE & ETaP pathway applicants who indicate an interest in energy systems are automatically considered for the clean energy fellowships. In your graduate application essay, please discuss the line of research or project work that you propose to pursue at Humboldt, and how your prior studies and experience have prepared you for this pursuit.
The fellowship selection committee will consider prior academic performance, work experience, areas of interest, communication skills (especially as exhibited in the statement of purpose essay), and other factors that indicate strong potential to succeed.
Humboldt graduate program applications are due by February 1 for fall enrollment. Fellowship recipients will be notified by April 15.
Returning fellows
Current fellows who wish to apply for second year funding must submit first semester transcripts and a cover letter, not to exceed 500 words, that describes first semester research or project work accomplishments and a proposal for the second year. These materials should be submitted electronically to schatzenergy@humboldt.edu.
The deadline for second year applicants is also February 1, and applicants will be notified by March 15.