Congratulations to Arla Ramsey, Vice Chair of the Blue Lake Rancheria Tribe, for receiving an inaugural Clean Energy Champion award from the California Energy Commission! This new award recognizes leaders from across California whose outstanding achievements are helping to advance the state's bold clean energy goals.
We wanted to share a few thoughts on what Arla's visionary leadership has meant to our team: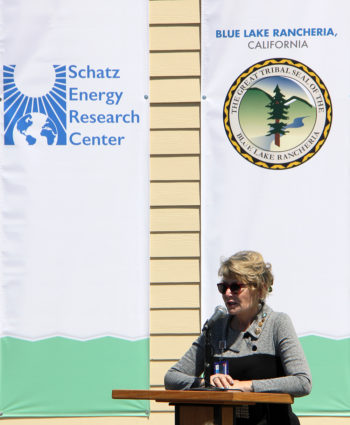 Arla Ramsey's leadership at the Blue Lake Rancheria has been critical for advancing clean energy on California's north coast. The innovative microgrid projects she has championed not only serve our community in times of need but now are a model for statewide action towards resilient clean energy. — Peter Alstone, project lead on the Rancheria's "Solar Plus" microgrid
It's great to see recognition for such a strong indigenous leader, who routinely faces great risks in the interest of advancing innovative solutions for grid decarbonization and resiliency. While implementing the Blue Lake Rancheria Microgrid, Arla's steadfast leadership and encouragement bolstered our team's confidence and inspired us to keep striving even in the face of our most challenging setbacks. — Dave Carter, project manager on the Rancheria's main campus microgrid
Arla Ramsey is a powerhouse. She has done so much for the Blue Lake Rancheria Tribe and surrounding communities. When she puts her mind to something, there is no stopping her. We have worked with Arla and her team at the Blue Lake Rancheria on a number of sustainable energy projects. They are so forward-looking in their efforts and their investments. They look to deploy energy technologies that make economic sense, provide local resilience and security, and help to move our region toward a carbon free future in order to mitigate climate change. They are an amazing team and have been a tremendous partner, and Arla is right out in front leading the charge! — James Zoellick, project manager on the Rancheria's "Solar Plus" microgrid
As one of the leaders of the Blue Lake Rancheria Tribe, Arla Ramsey has been a strong force for the Tribe's efforts to make the Rancheria a shining example of a sustainable community. Arla has been a trusted partner, always willing to contribute that extra effort, as we have worked with the Tribe to achieve their renewable energy goals. We congratulate her on being named a Clean Energy Champion, a well deserved honor. — Peter Lehman, project lead on the Rancheria's main campus microgrid
We're grateful to work in partnership with the Blue Lake Rancheria on clean energy microgrid development and so much more — and we are inspired by Arla Ramsey's decades of leadership that has done so much to advance our national understanding of sustainable community development!