On October 25, the Schatz Energy Research Center at Humboldt State University was awarded a grant from the California Ocean Protection Council (a division of the California Department of Natural Resources), to study the feasibility of offshore wind generation for the Northern California coast. The $623k grant will assess the environmental impacts, determine the required modifications of coastal infrastructure, examine stakeholder benefits and impacts, and evaluate local, state, and federal policies as they relate to offshore wind development.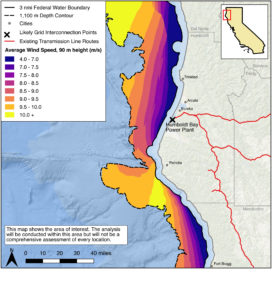 Offshore wind energy is likely to play an important role in meeting California's targets for carbon neutrality by 2045. The offshore wind resource near Humboldt Bay is among the best in the nation, with wind speeds often exceeding 10 meters per second at 90 meters above the ocean's surface (Schwartz 2010), which is the approximate height of wind turbines. The National Renewable Energy Laboratory estimates that the state's offshore winds have the technical potential to produce 392 TWh per year, about 150% of California's annual electricity load (Musial 2016).
Analysis of North Coast wind speed data has shown that the wind power is fairly consistent throughout the day (Musial 2016) when compared to other renewable resources such as land-based wind or solar. Offshore wind could provide a more consistent power flow to the grid, which in turn would support increased integration of technologies with highly variable generation throughout the day, such as solar. But California's deep ocean floor, sensitive ecosystems, seismic activity, and protected coastlines, will require careful research and development in order to responsibly develop offshore wind projects. Engaging California's coastal communities — who have the most to lose from sea level rise due to climate change — in early research and planning is critical for successful future development efforts.
The project is expected to kickoff in early 2019. For this project, the Schatz Energy Research Center is collaborating with ecological consultants from H.T. Harvey and Associates, coastal engineering specialists from Mott MacDonald, and faculty in the Economics and Environmental Science & Management departments at Humboldt State.
References
Musial, Walter, Philipp Beiter, Suzanne Tegen, and Aaron Smith. (2016). Potential Offshore Wind Energy Areas in California: An Assessment of Locations, Technology, and Costs. No. NREL/TP-5000-67414. National Renewable Energy Laboratory, Golden, CO.
Schwartz, Marc, Donna Heimiller, Steve Haymes, and Walter Musial. (2010). Assessment of Offshore Wind Energy Resources for the United States. No. NREL/TP-500-45889. National Renewable Energy Laboratory, Golden, CO.